R.O. Water Purification System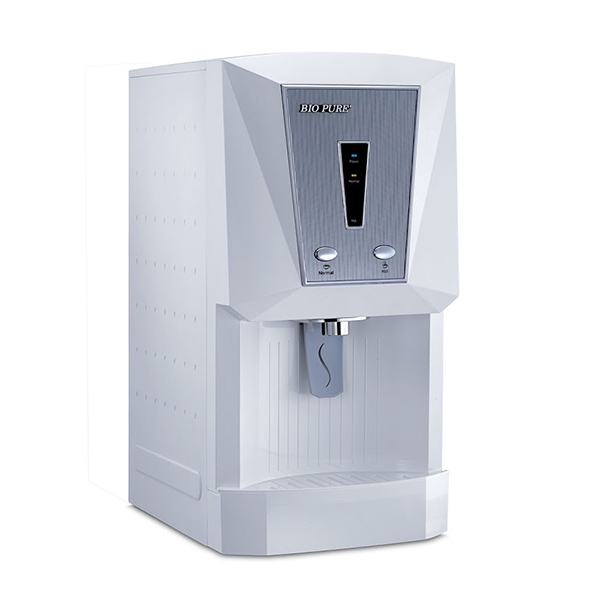 BIO PURE K200 WATER PURIFIER
Retail Price: MYR 5184.00
Wholesale Price: MYR 3988.00
PRODUCT SPECIFICATIONS

Normal : 4.3L ± 0.5L, Hot : 1.6L ± 0.2L

Normal : ABS Food Grade, Hot : Stainless Steel
2012, 2013 & 2015 Frost & Sullivan Asia Pacific Customer Service Leadership Award
2012, 2013 & 2015 Frost & Sullivan Asia Pacific Product Line Strategy Award
The reverse osmosis technology in Bio Pure Series removes contaminants as minute as 0.0001 micron, which is
thinner than the diameter of hair. Resulting in perfect H2O.
Constant Water Pressure Control System
The only R.O. Purification System in this region with built-in water pressure pump to regulate pressure to ensure constant water inflow, even when water pressure is low.
Advanced Auto-Flush & Rinse System
Prevent secondary contamination & prolong the lifespan of the RO membrane.
Air-Tight & Food-Grade Water Reservoir
FDA-Compliant ABS Food-Grade material ensures no leach of chemicals; air-tight cover prevents contaminants from entering.
'Intelligent' Water Level Control Technology
Automatically maintains an optimum water level at all times and prevents overflow.
Child-Lock Safety System
Add-on feature to protect the safety of your children.
Smart Temperature Control System
Ideal for hot beverage and cold drinks.
Clear LED Indicator
Built-in LED indicator displays mode status
(hot / ambient temperature) at a glance.
One-Touch Convenience
Enjoy the convenience of hot and ambient water dispensed from a single faucet.
1. Pre-Sediment Filter
Eliminates minute particles as small as 5 microns to prolong the filter and membrane lifespan.
2. Sediment Filter (Minute Particulate Removal)
Filters particulate contaminants down to 1 micron.
3. Organic Granular Activated Carbon Pre-Filter
Removes chlorine, chlorine by-products (ie. THMs) and virtually all organic chemicals including pesticides and herbicides.
4. R.O. Membrane
The only type of membrane in the market that removes any remaining contaminants including bacteria and viruses, harmful inorganic contaminants, heavy metal and drugs down to 0.0001 micron.
5. Organic Granular Activated Carbon
Post-Filter Deodorizes and "polishes" the water to improve taste.
The Bio Pure K-Series is a 5-stage reverse osmosis purification system. Its patented system removes virtually all types of contaminants including viruses as small as 0.0001 micron. Bio Pure K-Series is the only system in Asia that uses the most advanced Reverse Osmosis water purification technology. This system has been awarded the only WQA-S300 Gold Seal certification in Asia, and one of the only three companies in the world! Encased in Perfect Style to reflect discerning modern lifestyles, Bio Pure K-Series offers:
Extended warranty up to 2 years
Superb Value – only a few cents per litre
Energised Water – smaller water molecule clusters help enhance the body's cell metabolism and boost nutrient delivery
Great Tasting Water – odour-free water that tastes great for everyone
Peace of Mind – backed by the largest after-sales service network in Southeast Asia
No Questions Asked (NQA) policy for 3 months